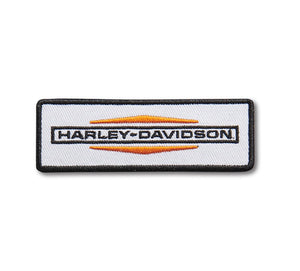 Harley-Davidson® Stacked Logo Patch - Small
Regular price £5.40 £5.40 Sale
Harley-Davidson® Stacked Logo Patch - Small
The 1960's -- a decade of peace, love, rock 'n' roll and the emergence of the Harley® caf© racing culture. Our Stacked Logo Patch graphic represents the time when customizing your bike or building one from scratch payed homage to existing models -- with the goal of a lighter weight, bare essentials bike for a racing-inspired appearance.

The Small Stacked Logo Iron-On Patch features an embroidered cotton twill backing with a merrow stitched border. And, while it includes the heat-activated iron-on backing, the heavy merrow border reinforces the exterior edges so that the patch can also be sewn on to heat-sensitive fabrics. 

Measures approximately 85mm W x 28mm H.