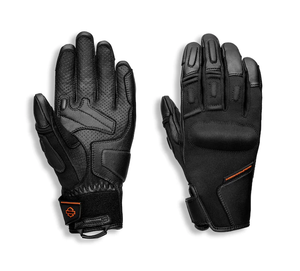 Harley-Davidson® Women's H-D™ Brawler Full-Finger Glove - 98109-21EW
Regular price £86.34 £86.34 Sale
Covered, cool, and comfortable for every ride. These ergonomically designed gloves are slightly branded yet full of features that keep you riding like a reinforced gel padded palm and CE Level 2 hard knuckle protection. Touchscreen technology lets you swipe at stoplights, while the pull tab makes these gloves go on and off easy.
• 
Stay Cool:
Coolcore™ lining back hand and palm for cooling effect.
• 
Fit & Mobility:
Ergonomic thumb and 45-degree pre-curve fingers. Elastic wrist with adjustable TPR wrist tab closure. Lightweight leather, stretch twill and neoprene for enhanced fit and comfort.
• 

Ride Enhancing Features: 
CE Level 2 hard knuckle protection. Reinforced gel padded palm. Easy on/off pull tab at cuff. Touchscreen technology enabling use of touchscreen devices with gloves on.
• 

Materials: 
94% nylon/6% spandex twill. Midweight goatskin.
• 

Certification: 
Certified to EN 13594:2015.